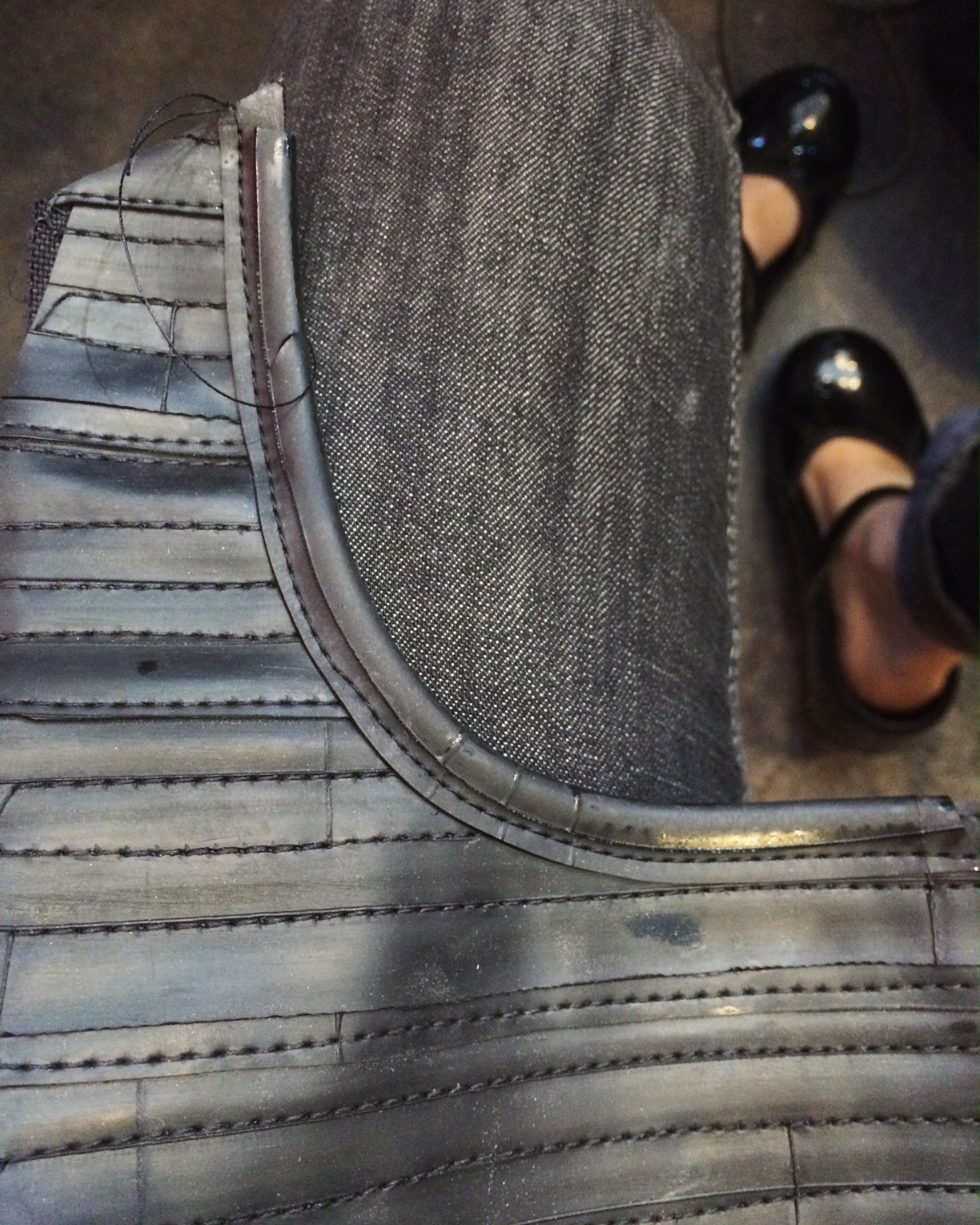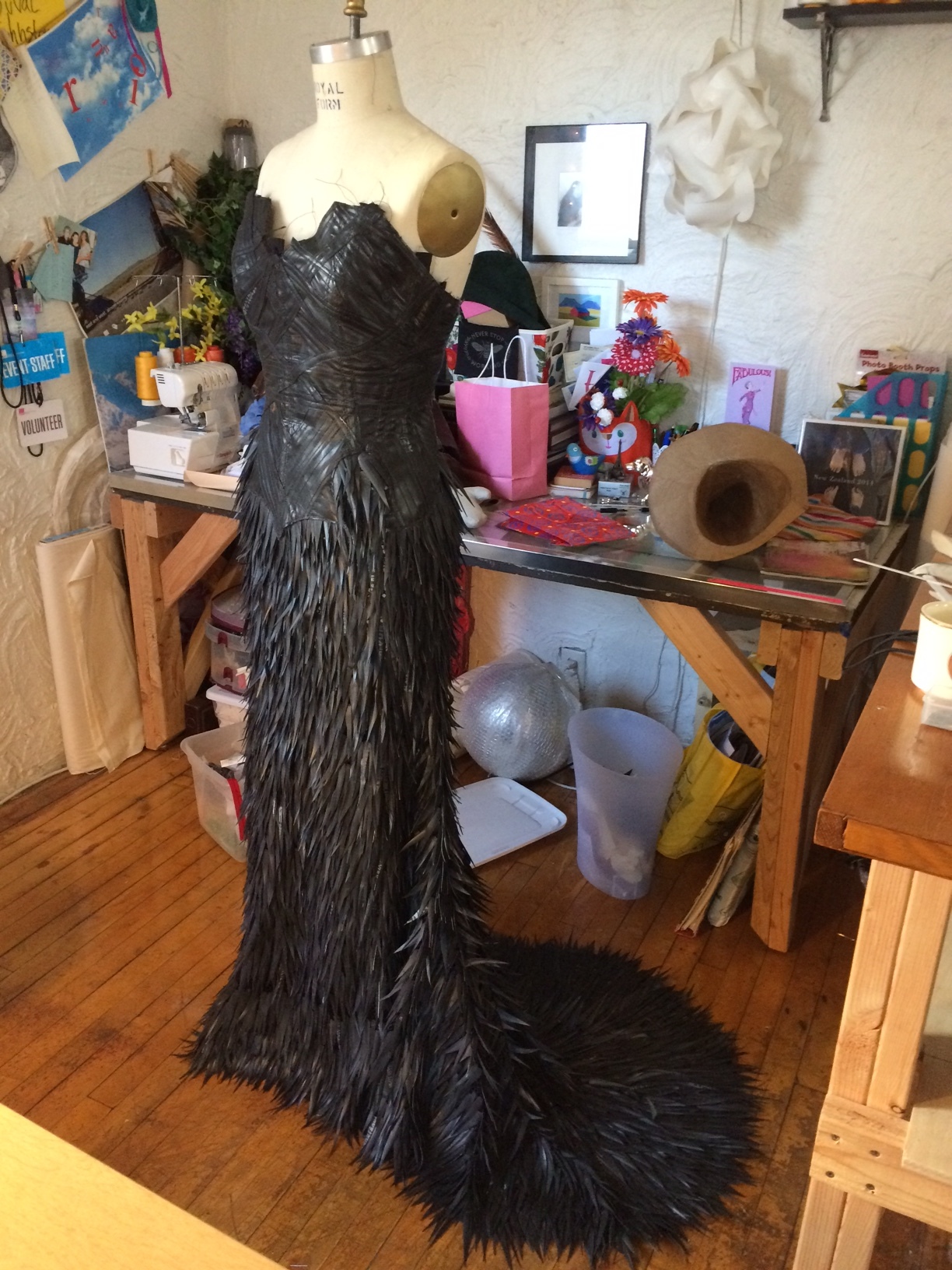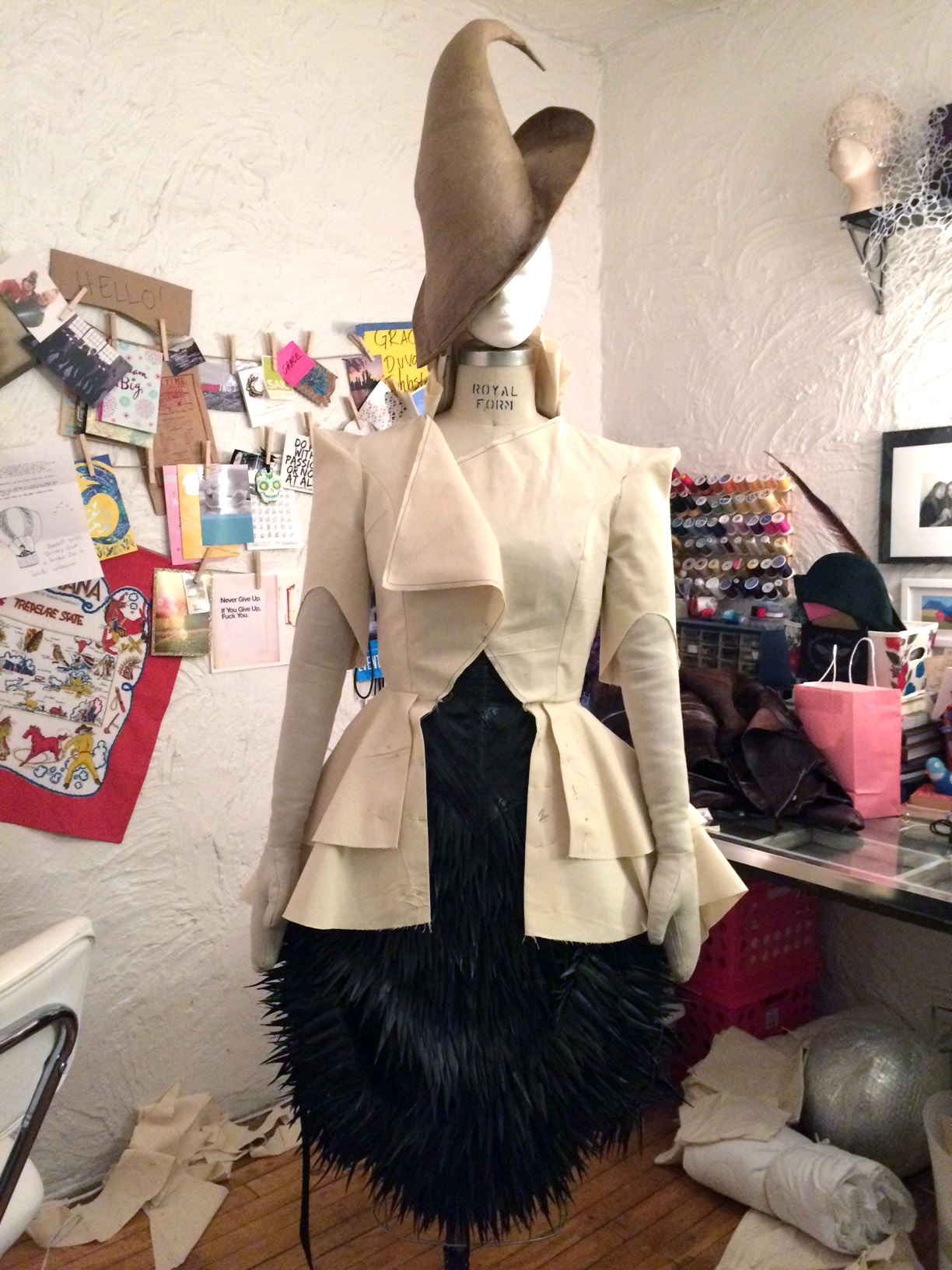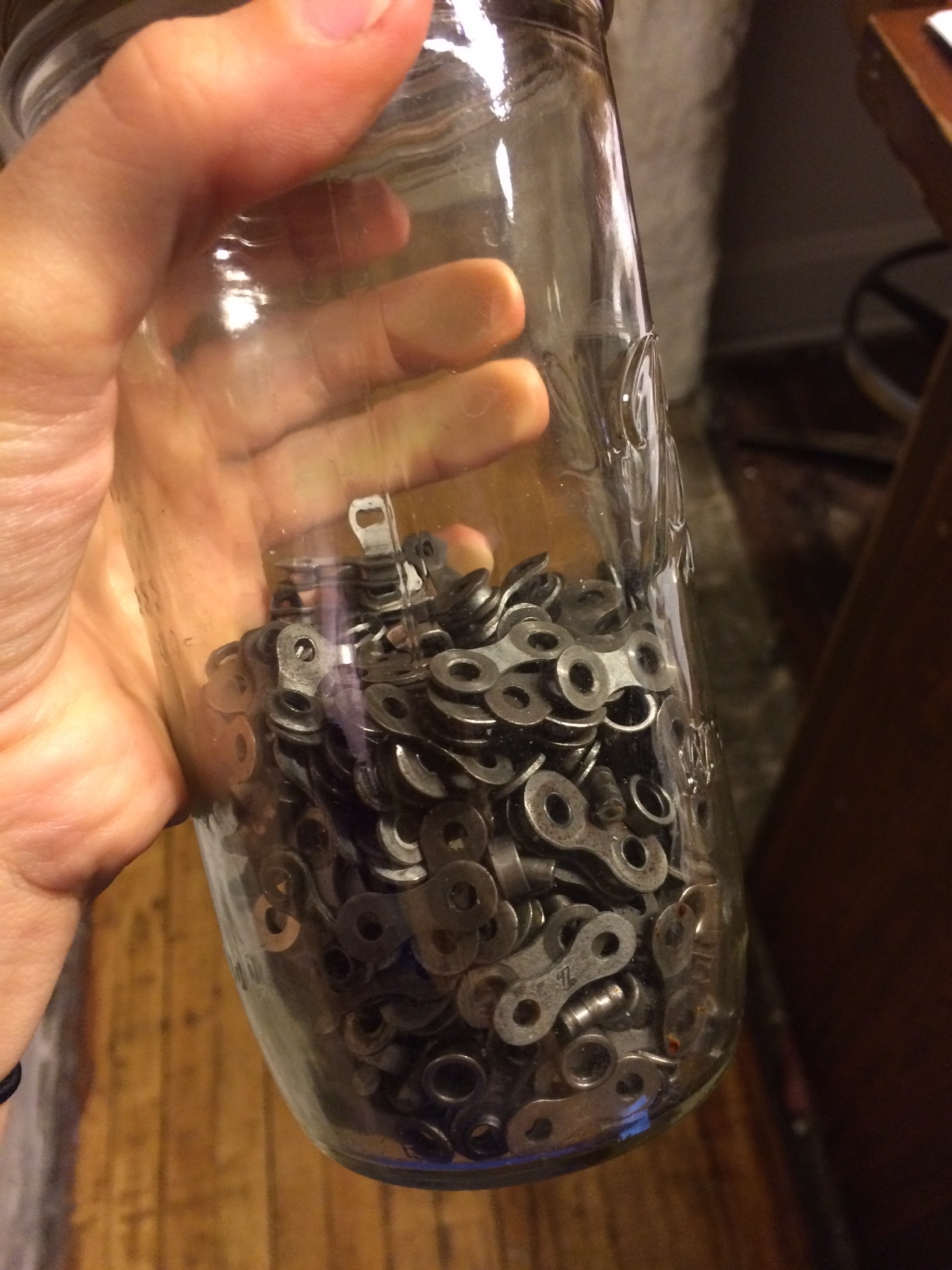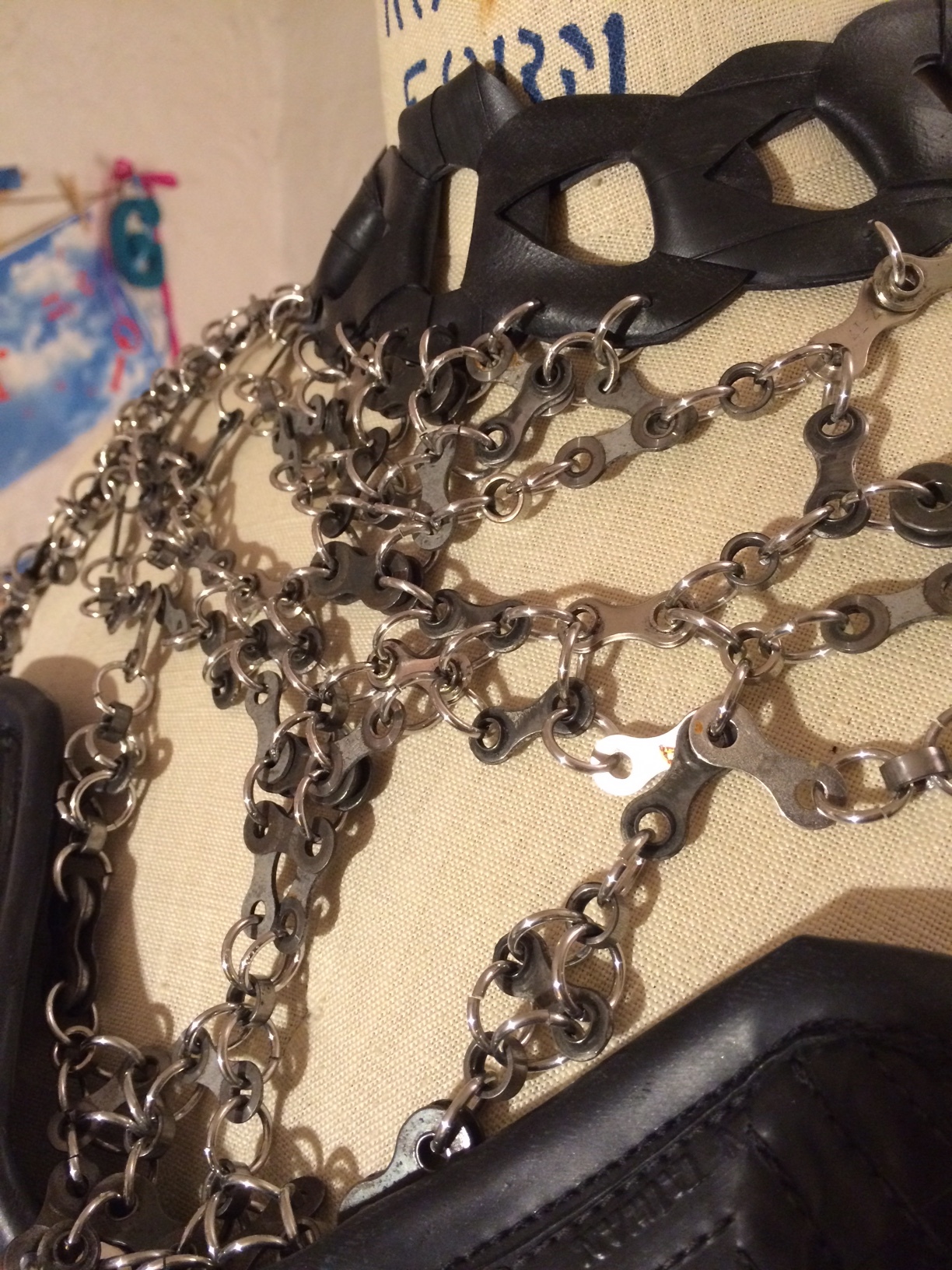 MAKING "MOLLY WEST"
The whole process for No Place Like Home began by gathering as many tubes as possible from bike shops. All I have to do is go to the counter at any store and ask for their busted tubes. They happen to be a difficult material to recycle, and most shops hate throwing them away, so they happily pile stacks of tubes from the trash into my arms and send me on my way. I then cut them all open down their length to make long strips that I can then manipulate in varying ways.
The corset of the dress and the outer jacket have long strips of rubber topstitched over the fabric. For this I use an industrial walking foot, which keeps the rubber from bunching up and sticking to the feet of the machine. The entire skirt is made out of hand-cut triangles of rubber that are then meticulously sewn in rows from the bottom hem of the skirt to the top. Many, many hours of Netflix and hand cutting went into building that skirt, as well as a ton of bicep building to heft that skirt once it was nearly finished (bike tube gets so very heavy). The shoulders of the jacket are embellished with valve stems from the tubes, which have been arranged and sewn onto the fabric into rows of spikes. The hat is made out of a base of wire mesh that has been coated in paper mache and then embellished with strips of tube adhered with contact cement. Even the shoes have tube on them! The necklace was made out of disassembled bike chain that was reconstructed using chainmaille rings and pliers.
In short, this piece required a lot of intricate and repetitive hand work, a ton of hand cutting, and much patience. I certainly couldn't have done it without my partner, Julian, who patiently disassembled bike chains and cogs and cut up tubes and helped preserve my hands for the sewing portion of this undertaking.
Grace DuVal Winner 2015
BIO
It's hard to say when Grace started designing clothes; perhaps it would be easier to say she never stopped playing dress-up. Growing up with a dumpster-diving father and a sentimental, waste-averse mother, Grace has always reused materials to create her own wearable art. When she discovered that there was a whole World of Wearable Art, she knew she had found her calling. Since 2008, she has participated in over a dozen wearable art and recycled fashion shows around the globe. Having recently graduated from the School of the Art Institute of Chicago with a Masters of Design in Fashion, Body and Garment, Grace now works for Chrome Industries, where she creates tough messenger bags for bicyclists and, in her free time, sews bike tubes into hand-made jackets, backpacks, laptop cases and anything she can think of. Her love of recycled materials, in the past driven by nostalgia and necessity, has continued to fuel her artwork. Grace draws her inspiration from the materials she finds - the forgotten epilogues of other people's stories.
BEING IN UNCOMMON THREAD
I've been participating in Uncommon Thread since I first discovered the show in 2008. It's always a thrilling experience when the call for entries shows up in my email and my mind can start piecing together the challenge of the next show's theme.
No Place Like Home was a piece of transition for me; it was the first wearable art piece that I made since I finished my Masters Degree this spring. It's pretty unbelievable to see how much my work has evolved over the years since I first started participating in Uncommon Thread. If I've learned one thing about my work, it's that I'm at my strongest artistically when I follow my gut and follow the joy that I get from making and creating. Uncommon Thread gives me the outlet that I need to be fun, whimsical, and outrageous while pushing my skills and craftsmanship. It was an utter joy to play with the theme of Epilogue, to build a character and backstory with my best friend and author, Amy R. Biddle, and then to build such an elaborate and dramatic garment while deeply exploring an unconventional material.
Winning the show was lagniappe. It was an incredible honor and a stunning, momentous experience to hear my name called. But the greatest joy was getting to be back at the show for another year with Erin and her amazing crew, to watch this fantastic show come to life in an arena that brings wearable art to the public. The real power in this show comes from being surrounded by like-minded artists who all understand the power of working with their hands. The community Uncommon Thread builds and the way it shares and embraces wearable art is truly spectacular. I'm just honored to get to be one of these artists in a room full of talent, and I'm so grateful I found this show eight years ago.